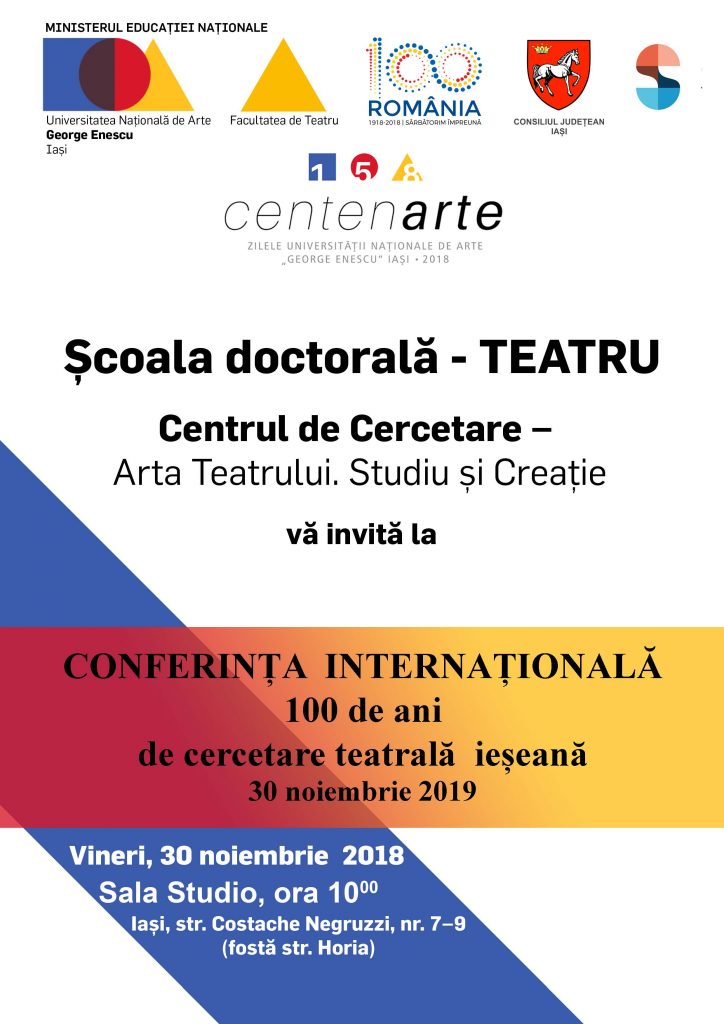 On the 30th of November, 2018, The Doctoral School of Theatre and Performing Arts at the George Enescu National University of Arts in Iaşi and The Research Centre for Theatre – Study and Creation will hold the INTERNATIONAL CONFERENCE – 100 years of theatre research in Iaşi.
Areas of research: the history of Romanian theatre, the history of universal theatre, comparative literature, journalism, European studies, educational sciences, sociology, social sciences, psychology.
Sections:         1918 – 2018 – Images from the World of Theatre;
On Theatre Research – Roots and Perspectives;
Portraits of Seekers;
Crossovers.
The volume of the conference will be sent for ISI – Web of Science indexing and it will be uploaded on several international academic databases. The papers of the conference will be written in both Romanian and English, along with an abstract and 5 keywords in English.
The deadline for submission of titles and abstracts (in Romanian and English): the 20th of November, CY.
The papers will be peer-reviewed. Confirmation of acceptance: the 25th of November.
The deadline for paying the participation fee: the 30th of November (the fees will be communicated as soon as possible).
The deadline for submission of the papers in full: the 5th of December, 2018.
We invite PhD students, academics, researchers, and PhDs in the aforementioned domains to participate in this conference.
We have attached an entry form, which has to be filled with the following information: the title, abstract, and 5 keywords in English, personal data (name, surname), your academic rank, institution affiliation, and the section in which you shall submit the paper.
We have also attached the editing guidelines that have to be followed by the authors in order for their papers to be published.
Best regards!